Implements & Machinery, Steam Cars & Boats
Print
Chris-Craft 18ft Boat of 1956 SO555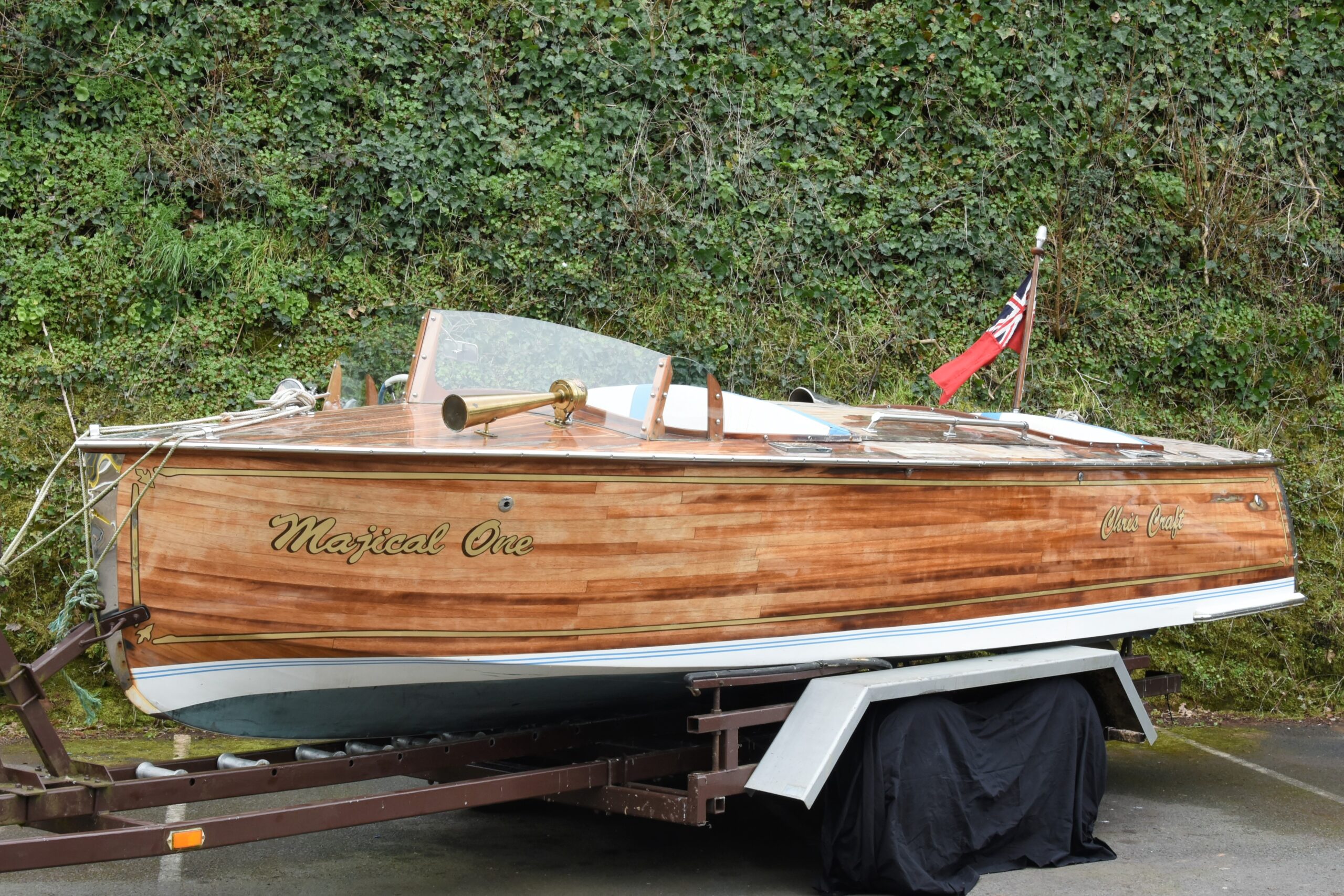 | | |
| --- | --- |
| Manufacturer | Chris-Craft of USA |
| Model | Boat |
| Year Manufactured | 1956 |
| Length | 18ft |
| Beam | 6ft 8inches |
| Condition | Requires hull work, recently fitted with new diesel engine |
| Asking Price | £26,995 |
A unique opportunity to tackle a project 1950s classic boat, built originally by famed boat manufacturer Chris-Craft.
This vessel was purchased by the currently owner several years ago in a poor condition and was subject to a major overhaul including (but not limited to) the renovation of the woodwork, lining of the hull with fibreglass, new upholstery and the purchase and fitting of a brand-new Mercury 150 Diesel engine (including the full system required to run it).
Once the restoration was completed a few years ago, this boat was resplendent with the stainless-steel trim and gold leaf finishing it off beautifully. The underside was copper coated for durability in the water and, inspection shows us, no expense was spared in making this is a fantastic boat for enjoying through the summer months. It is fitted with a Fusion sound system with matching speakers.
Regretfully, poor storage has led to the rapid decline of many parts of the vessel meaning that the hull now needs some remedial work to return it to a seaworthy condition. The engine has done very few hours and starts and runs as a nearly new Mercury engine should do! (Incidentally, forgetting the boat, the engine itself is a great investment and was fitted at no small expense!!) As with any project classic we are offering for sale, we would always recommend a prospective buyer to visit us personally to carry out their own appraisal of the work needed prior to making a commitment to buy.
Today, we are offering this boat for sale on behalf of the owner in its current, unseaworthy condition looking for a buyer who is keen to see this beautiful boat return to the waves. Originally, it would've be fitted with a petrol V8 when manufactured in the USA. No further parts or remains of the original engine are included in this sale beyond that which is photographed and presented to buyers on viewing. As would be expected, we are offering this boat at a price which represents a significant saving against what a seaworthy example would be expected to sell for, giving the buyer a budget to contribute towards to the work needed.
The trailer is included and (although we are fitting new tyres prior to handover), it is in serviceable condition.
Overall, a unique and highly appealing project Chris-Craft which we look forward to seeing back out on the water!
Asking Price – £26,995
We always encourage prospective buyers to view vehicles and steam engines in person prior to purchase. This caravan is advertised for sale by Berrybrook Steam & Classics on behalf of the owner and seller.
For more information, please speak to Matt on 01392 833301 or email [email protected].
As with all of our historic vehicles listed for sale, we recommend viewing in person where possible. Appointments are recommended so please try to contact us before travelling for a viewing.
Please ask about our flexible part-exchange options. Delivery can be arranged to anywhere in the UK, and beyond, at buyer's expense.