Implements & Machinery
Print
Gardner No. 1 Oil and Gas Hot Tube Ignition Engine Outfit of 1902/03 SOLD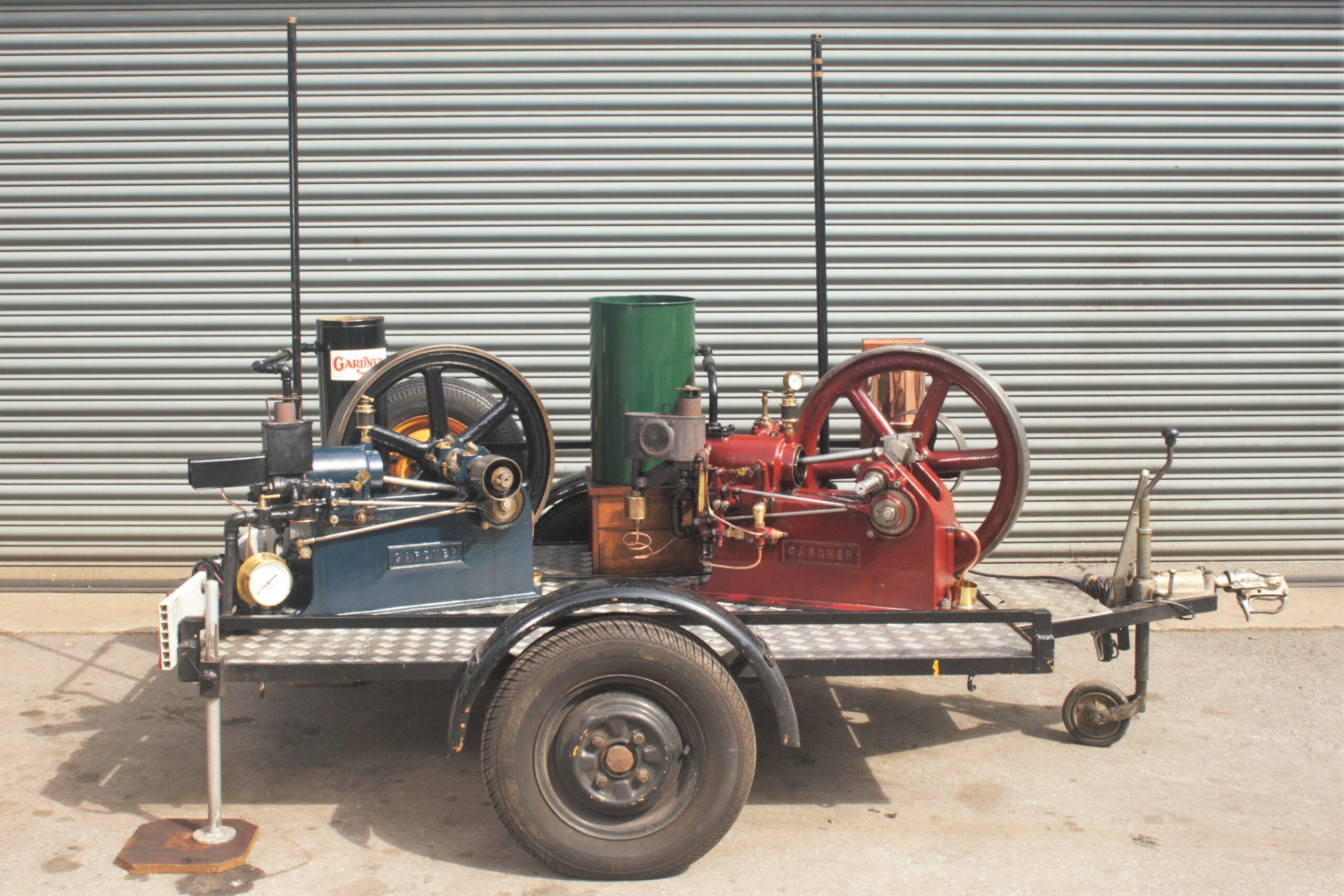 | | |
| --- | --- |
| Model Type | Gardner No. 1 Hot Tube Ignition |
| Place of Origin | Manchester, UK |
| Fuel | Oil and Gas |
| Year | 1902 and 1903 |
| Works No. | 3135 (gas) & 2768 (oil) |
| Condition | Superbly Presented |
| Asking Price | SOLD |
An unusual opportunity to own a pair of particularly rare, early Gardner combustion engines!
The Gardner No. 1 hot tube ignition engine is L. Gardner & Sons Limited's first venture in combustion engines, a market they became renowned for during the 20th century. Presented for sale is an outfit consisting of a Gardner No. 1 Oil Engine of 1902 alongside a Gardner No. 1 Gas Engine of 1903. They are both of virtually identical design running on different fuels, as per their original build. Both rated at 1 1/2hp at 400RPM, these marvellous engines are both in superb running order and really are something special. Prior to this design, Gardner were known for producing steam engines and it is certainly possible to see the clear use of steam engine ideas in the design of these two engines.
This outfit is for sale in its complete condition including both of the below engines on behalf of the owner. It would be possible to separate the outfit but this would be strictly by negotiation only and we would encourage any prospective buyers to contact us directly to discuss the options.
Gardner No. 1 Gas Engine No. 3135
Fuel – Originally Town (Coal) Gas, now propane gas
Ignition Type – Hot Tube via gas blowlamp/burner
Lubrication – Total Loss (Mineral Oil)
No. 3135 was originally believed to have spent its working life driving a water pump in Dorset. At some stage during its working life, it was converted to petrol with spark ignition however was reverted to its original layout with hot tube ignition around 30 years ago. It is now presented in full working order, as it would have left the factory in 1903.
Garner No. 1 Oil Engine No. 2768
Fuel – Paraffin Oil (Kerosene)
Ignition Type – Hot Tube via continuous paraffin blowlamp
Lubrication – Total Loss (Mineral Oil)
No. 2768 spent its working life driving a deep well water pump for the domestic water supply on a remote farm in Wiltshire. The engine was found in 1981 in a seized condition and was restored to excellent working order, as presented in today.
The Outfit
The two remarkably rare engines have been owned and cherished by the same family for over 40 years. They are a pleasure to use and always attract an audience. We can conduct demonstrations at our premises.
Aside from everything needed to run the engines, included in the sale is a folder containing an in-depth run through of the starting procedures for both engines, a fact sheet detailing their history and specifications and copies of the original engine reports produced by Gardner in 1902 and 1903 respectively.
Overall, a unique opportunity to acquire a pair of particularly unusual collectors' stationary engines, presented in superb condition and ready to enjoy!
SOLD
We always encourage prospective buyers to view vehicles and steam engines in person prior to purchase. This engine is advertised for sale by Berrybrook Steam & Classics on behalf of the owner and seller.
For more information, please speak to Matt on 01392 833301 or email [email protected].
As with all our steam engines listed for sale, we recommend viewing in person where possible. Appointments are recommended so please try to contact us before travelling for a viewing.
Please ask about our flexible part-exchange options. Delivery can be arranged to anywhere in the UK, and beyond, at buyer's expense.