Simpson Strickland & Co Ltd Compound Steam Engine with Boiler SOLD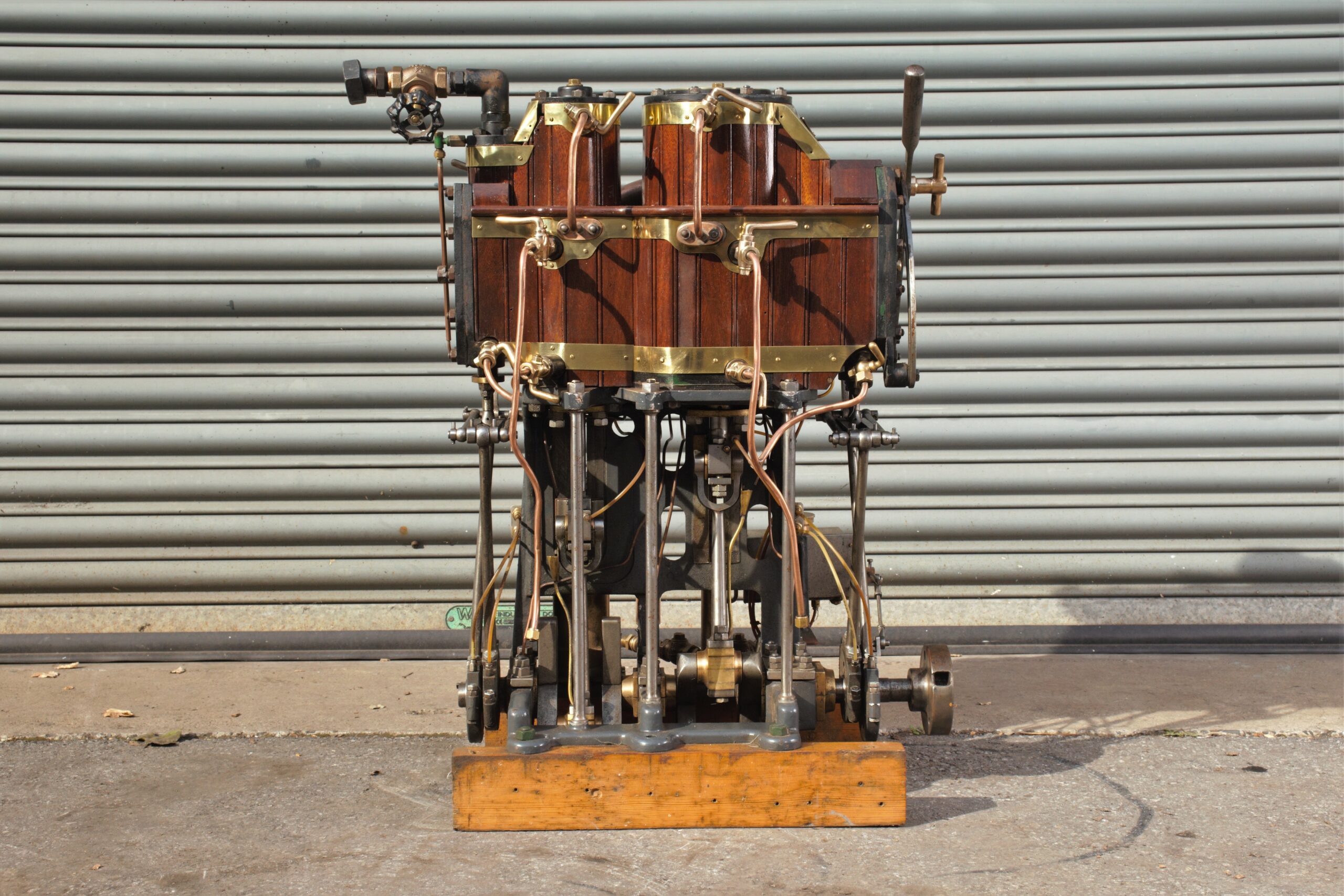 | | |
| --- | --- |
| Manufacturer | Simpson Strickland & Co. Ltd, Dartmouth |
| Design | Tandem Quadruple Expansion Steam Engine |
| Boiler | Vertical Fire Tube |
| Boiler Condition | Renovated and hydraulic tested 2015 |
| Year | 1889 (restored 2015) |
| Condition | Good |
| Asking Price | SOLD |
A rare and unique opportunity to purchase a complete Victorian Simpson and Strickland steam plant dating from 1889.
Simpson and Strickland were during the height of the steam launch popularity, one of the leaders in the development and manufacturer of engines and boiler boilers for steam launches, from their workshops on the banks of the River Dart, at Dartmouth on the South Coast of Devon.
The steam plant (Tandem quadruple expansion engine, and boiler) we have available have been fully restored and renovated in 2015 (Boiler Hydraulic tested in 2015), by the renowned Marine Engineer John Maltby of Cumbria, and this has been done to a superb and exacting standard.
The boiler is a Thring Number 2 which has had the following work carried out on it; boiler has been retubed, new fire hole door, new feet added to the boiler, new fire bar support, new fire bars fitted and the foundation ring cleaned. The boiler has an internal firebox diameter of 24 1/2 inches.
The engine is extremely interesting and is a very unusual engine in that is actually a four-cylinder, quadruple expansion machine. The high pressure and first intermediate cylinders are in tandem, cast in one piece. They operate through a common connecting rod on one crank. The second intermediate and low-pressure cylinders are also in one piece in tandem, in a separate casting. They operate on the other crank.
This combination of boiler and engine are suitable for Steam launches up to 40 feet in length.
Both Boiler and engine have been clad in what appears to be red mahogany, and looks superb, and gets many admiring looks in our showroom. The boiler and engine appear to have had either none or very limited use since it's restoration.
This is superb opportunity to have a historic steam powerplant, from one of the most world-renowned manufacturers fitted into your steam launch, safe in the knowledge that all major works have been done on the boiler and the engine is fully overhauled and subject to your own boiler inspector's and insurer's requirements you could fit straight into your launch and fire up and launch.
Asking Price – SOLD
For more information, please speak to Matt on 01392 833301 or email [email protected].
As with all our steam engines listed for sale, we recommend viewing in person where possible. Appointments are recommended so please try to contact us before travelling for a viewing.
Please ask about our flexible part-exchange options. Delivery can be arranged to anywhere in the UK, and beyond, at buyer's expense.