Miniature Traction Engines: Boiler Testing
Even to a complete novice to the hobby, most people know that steam engines involve steam under pressure. From the explosive scenes in popular film 'The Iron Maiden' (hopefully I didn't spoil the end for you!) to pictures of railway locomotives in years gone by having experienced really quite horrible looking boiler failures; even onlookers with little experience are vaguely aware of the possible worst-case scenario of a steam boiler going wrong.
Admittedly, those involved with the operation of a traction engine would find only amusement (and possibly perplexed confusion) in watching the crew of 'The Iron Maiden' repeatedly hitting an unknown valve to stop the boiler exploding but, despite that, I know of no experienced traction engine operators who underestimate the potential power of steam and the dangers of a boiler going wrong.
In light of this, combined with modern legislation and insurance requirements, regular boiler testing has become a key part of continuing to keep traction engines (and any steam engine in the public domain) operational, in steam and, most importantly, safe. This blog article will cover the basics of how many of our customers keep their miniature traction engines 'in ticket' and hopefully provide the reader with an overview of the main options available.
Steel vs Copper
Large-scale miniatures (4" scale and larger) will almost definitely be fitted with a welded steel boiler. Smaller scale miniatures (2" scale and smaller) will nearly certainly be fitted with a copper boiler whereas those engines in the middle ground (3" scale or thereabouts) will be fitted with either a steel boiler or a copper boiler… the pros and cons of each material in this scale can be debated at length!
The material of the boiler affects the general maintenance of your traction engine as well as, in part, helping determine the likely best route to take when choosing a boiler inspector. The material will also aid you in asking the right questions when looking to buy. For instance, a paper trail is much more important with a steel boiler, as are regular internal inspections and diligent maintenance. On the other hand, it would be good to know whether a copper boiler is showing any signs of having been overheated at any time. For any queries about the paperwork needed to commission a boiler, or for what to look out for, it is worth speaking to your chosen boiler inspector for more information; you might find that some are willing to accompany you to view a possible purchase to help with a second opinion!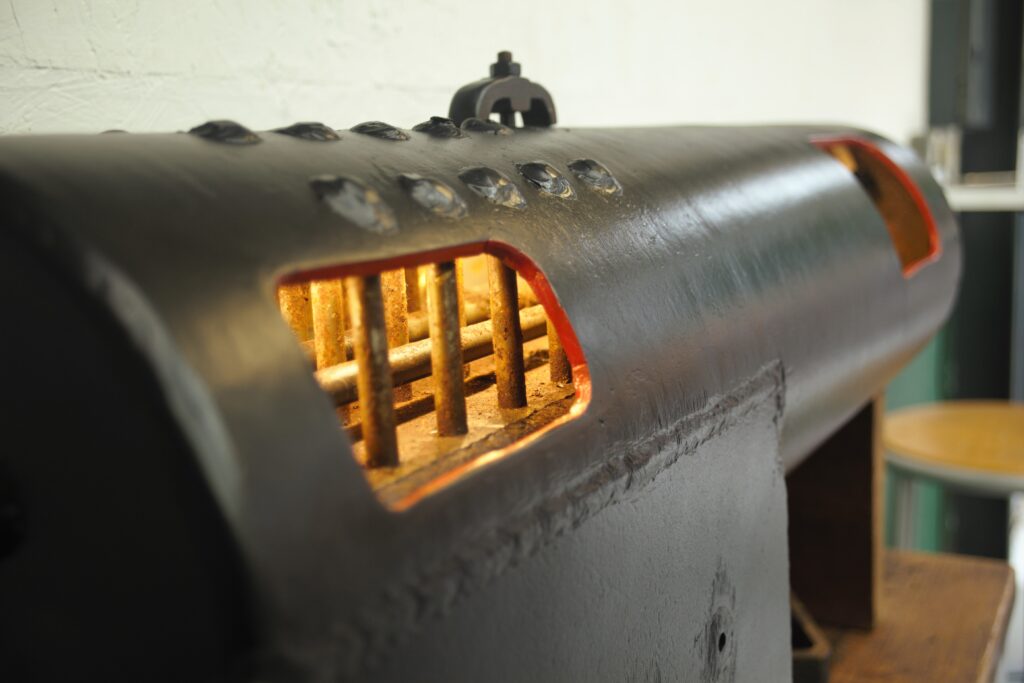 Commercial or Club
Owners have two boiler testing routes to consider:
A traction engine owner may employ the services of a commercial boiler inspector who carries out these inspections commercially and, although each inspector has their own set of parameters, they tend to operate testing larger scale miniatures and/or full-size engines. Whilst some commercial inspectors are happy looking at smaller miniature traction engines, and even those with copper boilers, that certainly won't always be the case.
The second route that can be taken is to join your local Model Engineering Society who often have a nominated club boiler inspector who will be able to carry out the boiler testing as needed. Our experience shows that most clubs are more comfortable with testing smaller copper boilers although there are now numerous clubs looking after larger scale, steel boilers and many owners of 4" scale traction engines use their Model Engineering Society club boiler inspector for their boiler testing.
Again, like the steel vs copper boiler debate in 3" scale miniature traction engines, it would be possible to debate endlessly about the advantages and disadvantages of each path however we will keep it brief and, like all of these things, the answer for you will depend on your personal situation.
The only firm advice we can offer is to suggest that this is something worth discussing with local engine owners to see what the best way of carrying out the required testing is, in your area!
1. Commercial Boiler Testing
2. Club Boiler Testing
Usually more suited to…
– Larger scale miniatures/full size (some inspectors choose not to test miniatures whereas some are equipped only for miniature testing)
– Steel boilers
– Some copper boilers dependent on inspector
– Smaller scale miniatures
– Copper boilers
– Some steel boilers dependent on club regulations
Quality
Carried out by a professional in the field so typically of a high standard.
Usually conducted by experienced enthusiasts within the club so potentially subject to being of more variable quality (when compared to a commercial boiler inspection) but largely to a more than acceptable standard and improving.
Insurance
– The inspector must have appropriate insurance in place.
– Ensure they are eligible for the NTET insurance disc scheme.
– The inspector must have the appropriate insurance in place.
– Check there are no limitations to your insurance which would affect your enjoyment (for instance, some clubs restrict public use of your engine to club events only when their testing is in force – this suits some owners, but others would prefer more freedom).
Costing
A commercial service so typically costs more money.
Often incorporated into membership fees for the club.
Steam/internal Testing
– Usually every 14 months.
– Will include a check inside the boiler with a camera, inspection of thread and general condition followed by seeing the engine in steam to witness the safe operation of the boiler and ancillaries. Speak to your inspector for more details.
– Usually every 12 months.
– It should include a check inside the boiler followed by seeing the engine in steam to witness the safe operation of the boiler and ancillaries. Speak to your inspector for more details.
Hydraulic Test
– A thorough inspection with the cladding removed.
– It will remain in place for as long as 10 years on a steel boiler (shorter on a copper boiler), but this is, as always, down to examiners discretion and the written scheme. Speak to your inspector for more details.
– A less thorough inspection than the commercial equivalent (often with cladding still in place but not always) often carried out every 2 years but subject to smaller intervals at examiners discretion. Speak to your inspector for more details.
Other Testing
Alongside the above testing, inspectors often carried out thickness tests on the platework as well as other checks at their discretion. Speak to your inspector for more details.
Rarely carry out any further checks but depends on the specific club's resources and the inspector carrying out the test. Speak to your inspector for more details.
PSSR 2000
Whichever route you choose, the boiler inspector is referred to as the 'competent person' and requires a sound knowledge and understanding of the equipment they are testing. In terms of the legislation for further reading, the commercial boiler inspectors assess the boilers against Pressure Systems Safety Regulations 2000 (PSSR 2000) whereas the clubs, associations and federations work closely with insurers, the Health & Safety Executive and other parties to follow the framework of PSSR 2000 to ensure the safe operation of miniature steam boilers.
What Next?
Boiler testing is complex matter which goes well beyond what has been outlined in this brief, entry-level blog. Despite that, I hope you now feel a little more comfortable understanding the types of options available and the questions you should consider asking when looking for an inspector or thinking about buying a miniature traction engine for the first time. We will return to the topic of boiler testing in our blog to dive a little deeper into the different types of testing.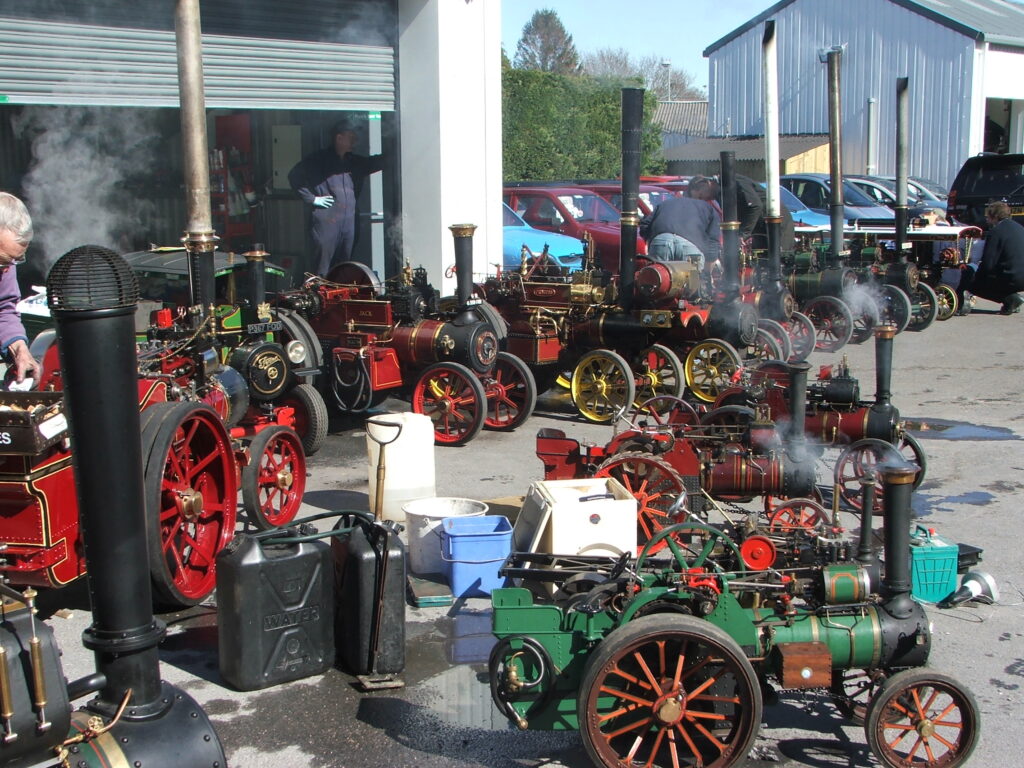 The key is finding a boiler inspector you can trust and take note of their guidance and advice. If in doubt, ask the question and recognise that boiler inspections are not always as 'one-size-fits-all' as the MOT on your car. There is often a greater level of inspector's discretion regarding frequency and depth of testing, largely a result of their experiences and down to the boiler they have in front of them. At the end of the day, us, you, the inspector, HSE, the insurance company and anyone else involved with your traction engine all have the same goal – to ensure that it is safe to continue service and, if it isn't, the correct work is carried out before they are operated!
Boiler inspections carried out at Berrybrook Steam & Classics follow the commercial route and are carried out, as necessary, on sales engines and for engine owners. For details about any specific engine on our website, or to book your engine in for a boiler test, it is best to give us a call on 01392 833301.