Looking to sell?
Using Berrybrook Steam & Classics to help you sell your vehicle
With over 15 years' experience in the advertising and sale of traction engines and historic vehicles here at Berrybrook Steam & Classics, we are well equipped to advertise and sell your steam or classic vehicle, whatever it may be.
We are a family-owned business in its fourth generation of ownership and with the family origins in the sale of motorcycles stretching back to 1953. As a company, we continue to grow and are pleased to be taking on a growing portfolio of sales vehicles. This page will highlight exactly what we trade in and the ways we can help you sell.
Our areas of expertise:
Miniature Steam Traction Engines of all sizes
Full-Size Traction Engines plus related steam engines
Classic Motorcycles*
Classic Cars*
Steam Cars
Traction Waggons, Living Vans, Threshing Drums and related equipment
We are set up to be flexible in our advertising. If you have a rare or difficult to categorise vehicle you think we may be able to help with, do give us a call.
What are your options with selling your vehicle using Berrybrook Steam & Classics?
We offer three options for the sale of your steam or classic vehicle. Which option we go with depends on your preference and the particulars of the vehicle in question. We will always give an honest opinion about which option we feel will suit your needs the best.
Option 1: We can cash buy your vehicle at a competitive trade price for resale.
This often yields the lowest amount to you as a seller; however, it is a quick and easy sale with no hassle and cashes in the vehicle for a fair price without any further involvement from you. This option is available only on our discretion and may not be available on every vehicle offered to us. If it is not an option, we will be able to discuss with you which of the other two options would be most suitable.
Option 2: Our off-site commission sale option.
We can advertise and deal with enquiries on your behalf, but with the vehicle based at your premises. This means you will handle viewings passed onto you following our vetting process which is our attempt to ensure all parties visiting the vehicle have a genuine interest in purchasing. We will handle negotiations on your behalf and can be available for the viewing if you feel more comfortable with this. All commission fees are only paid at point of sale and are usually prearranged before advertising commences. The full commission fee typically operates on a no sale, no fee basis**.
Option 3: Our on-site commission sale option.
Our second commission sale procedure is to base the vehicle at our premises for us to deal with the sale in its entirety. We will advertise, deal with enquiries and viewings from our premises. At point of sale, we will return the previously agreed 'return figure' to you having already accounted for our commission and costs. We find this is the most effective way of selling a vehicle and one which usually yields the greatest amount for the seller whilst allowing for negotiation to ensure the buyer pays a fair price too. The commission is only paid at point of sale and is usually the balance between the return figure and final sale price (for specific details in your case, call us today). The commission fee typically operates on a no sale, no fee basis**. Collection/delivery is usually negotiated to suit all parties although is usually also only payable at point of sale.
Why choose Berrybrook Steam & Classics?
We pride ourselves on our professionalism, and our discreetness where appropriate, when working on our clients' behalf to sell a vehicle. We are also proud of our hassle-free attitude to cash buying vehicles.
Upon entry onto our books, we make sure you are happy with every step of the process. If the vehicle is on-site, we will carry out the photographs and produce a written piece for the advertising; if you decide to keep it at your premises, we will advertise to our wide reach of the community using similar materials.
Our advertising reach is multi-platform; making use of our own website, social media, online forums, presence at shows and magazine advertising.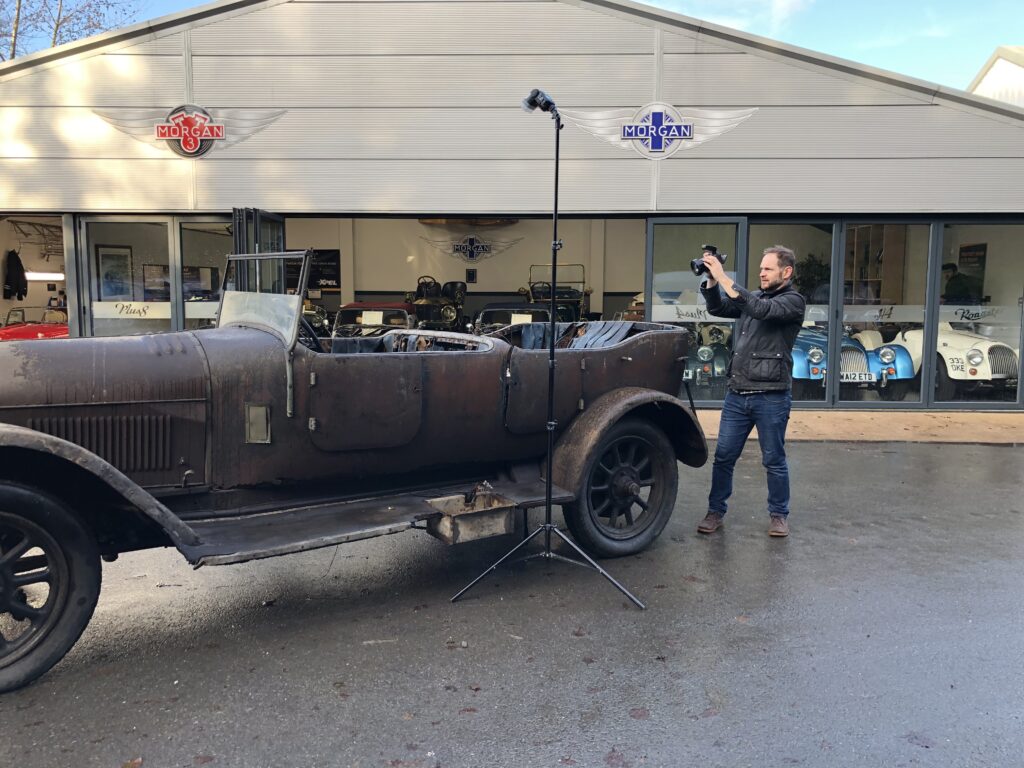 We have links all over the world and are experts arranging delivery of vehicles internationally – no distance is too large. We operate a low-loader for transport of heavier machines and a fleet of vans with trailers for smaller vehicles; all of which regularly deliver all over the UK and beyond.
We are a well-known and respected name in the steam traction engine community and a growing name in the classic car and motorcycle circles.
How do we go forward?
We find the best way to decide what will work best for you is to give us a call. We respect that, as every vehicle we deal with is unique, most require a bespoke service to advertise to the right places and get the sale you would like.
To talk to one of the team about selling your steam or classic vehicle today, give us a call on +44(0)1392 833301 or email [email protected].
*our specialism is in vehicles classed under the historic tax band, so older than 40 years since year of registration. For any newer vehicles you feel may fit our portfolio, or enquiries regarding newer Morgan options, do still give us a call on the same phone number, +44 (0) 1392 833301.
** Terms and conditions apply. All details regarding payment and termination of any agreements are explained in writing prior to any advertising commencing. We are more than happy to answer any questions you may have at any point during the process.