Miniature Traction Engines: Keep those tubes swept!
As part of our blog, we will be focusing on some of the key maintenance points engine owners quickly become accustomed to, but which need to be taught to newcomers to our hobby!
A sight synonymous with the morning of any steam rally is the opening of smokeboxes and brushing of tubes. While a practice essential to the running of a traction engine of any size, the reasons we do so is not necessarily clear to everyone…
What are boiler tubes in a fire tubed boiler?
Fire tubes are lengths of hollow material which connect the firebox (where the coal burns) to the smokebox (the cavity at the bottom of the chimney). In a fire tubed boiler, these travel through boiler water and are surrounded by a reservoir of (when in steam) boiling water.
The reason we differentiate the tubes in a locomotive-type boiler (that which is found in the typical traction engine) as being 'fire' tubes is because other designs of boiler incorporate 'water tubes' whereby the tubes contain water and are surrounded by fire, rather than containing fire and being surrounded by water.
Miniature traction engines have boilers made of either copper or steel. The tubes are usually made of the same material as the surrounding boiler although, in some cases, steel boilers can be fitted with copper tubes. In larger scale miniatures (with a steel boiler), the tubes are expanded into position whilst in the smaller, copper boilers, the tubes will usually be soldered in. Whilst copper boilers and their tubes can be expected to last for a very long time with no repairs necessary with careful use, the steel tubes fitted to steel boilers are considered a service item and last, on average, around 10 years of normal use. At this point, the tubes are removed and replaced.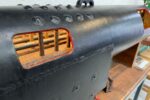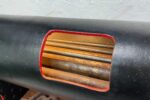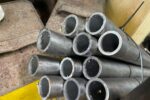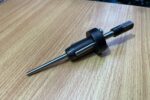 What do the tubes do?
In essence, the heat (and resultant gases and smoke) from the burning fire travels along the tubes and heats the water surrounding them. Locomotive-type boilers were a part of a very long development of inventors and engineers attempting to create efficient steam boilers which were capable of effectively boiling water rapidly and efficiently.
Fire tubes were a part of that development and having multiple tubes running through the water allows for a much larger surface-area-to-volume ratio as opposed to having, say, one or two larger tubes (for details on surface-area-to-volume ratios, there is some great literature online or take a look back at your school science notes!).
Why do we need to keep them clean?
Neglecting to clean the tubes on your steam engine boiler will very quickly lead to identifiable problems. As the gases and smoke travel along the tubes, they naturally deposit solids along the tubes' length in the form of soot. Soot is a wonderful insulator meaning, even a small layer of soot build-up will quickly reduce the tubes' efficiency at transferring the heat through the metal (which is a good conductor) and therefore will cause the engine to struggle raising steam and boiling the water needed to run properly.
Missing even one tube cleaning session can have noticeable effects on a miniature traction engine and skipping it a couple of times will quickly make the engine very challenging to steam.
If the engine continues to be used but the tubes not cleaned, they will eventually begin to build up such a large deposit of soot and solids that they will start to close up reducing the draw on the fire and further impacting the engine's steaming efficiency and usability. Furthermore, if the soot becomes caked into place after multiple steamings, it can become challenging to remove it.
Assuming the engine is steamed a few times and a small deposit of soot is left built-up inside the tubes, this can also cause long-term issues if they are not swept prior to storage. Soot is acidic in nature and, if left in the tubes (especially steel tubes), can severely shorten their lifespan through corrosion.
How to keep them clean…
Keeping the tubes cleaned is a simplistic exercise which can be satisfying and is a big part of traction engine usage – many of our Traction Engine Experience Day participants look forward to this part of the day!
To sweep the tubes, you open the smokebox door and push a tube brush along the length of each tube allowing the brush to travel the full way into the firebox and then you pull the brush back through into the smokebox before moving onto the next tube… it's as simple as that!
Top Tip: Once a tube brush goes in, it is very difficult to change its direction so you must be confident it will make it along the full length of the tube into the firebox at which point you will be able to pull it back out.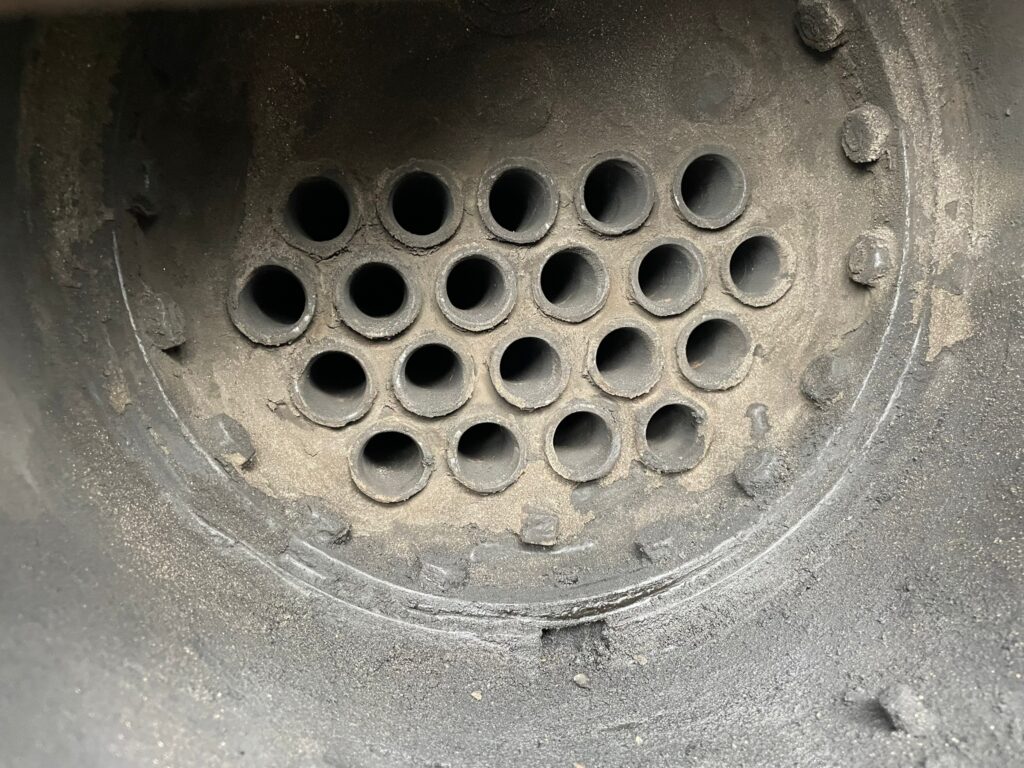 When do you clean them?
It is recommended that you sweep the tubes between every steam up of a miniature traction engine. If you don't plan to fire the engine for a while, then we recommend they are swept once cooled down following your last steaming. For instance, if you are enjoying a weekend on a rally field or a couple of days of steaming on the trot at home, it is typical to brush out on the morning of the second day of steaming and then again, once home and cooled down, so you are ready for the next weekend. This means you are sweeping before every steam up as well as avoiding leaving them with soot in them whilst the engine is stored away.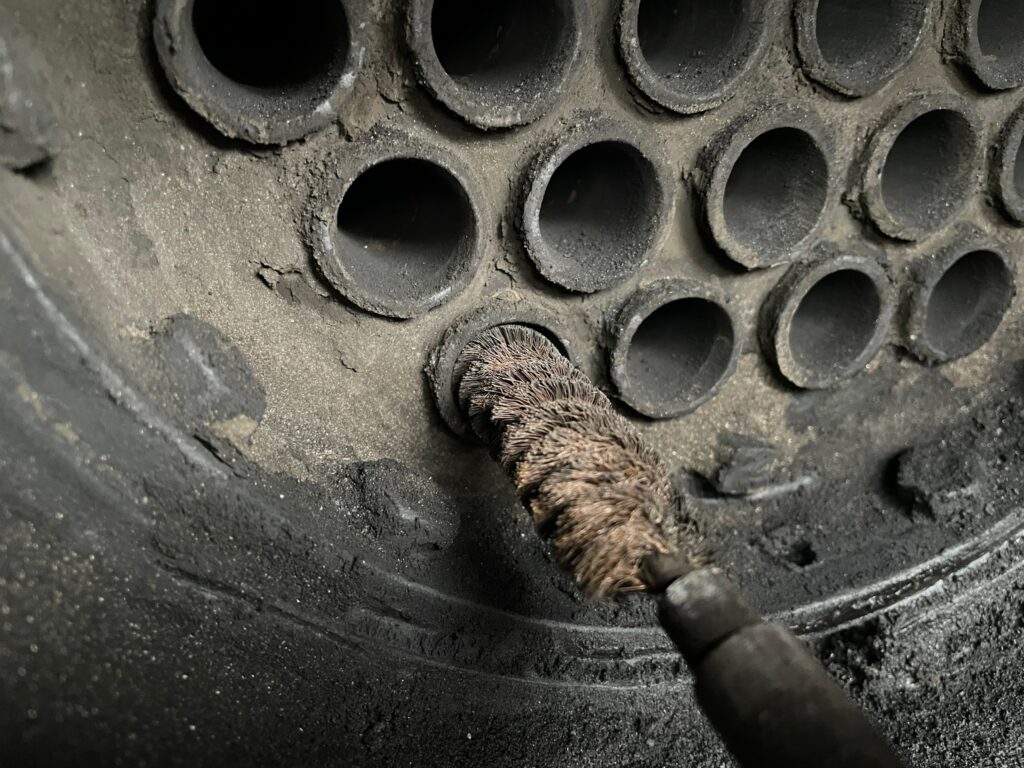 What do you need?
In terms of tube brushes available, there are plenty of options to choose from for your miniature traction engine. Most owners opt for steel, bronze or brass bristled brushes however there are synthetic fibre brushes available too. We have also seen owners opt to use penny washers ground to be a perfect fit to the tube – perhaps a little harsh for regular use but great at ensuring a thorough clean! The key with choosing your tube brush is to make sure they are a snug but not overly tight fit in the tube. If it is too tight, you run the risk of trapping the brush halfway down a tube, too loose and it will be ineffective.
We stock a range of tube brushes and their associated handles here at Berrybrook. To see our range, visit our online shop.