Toy Steam: Top 5 books for Mamod steam enthusiasts
As with any hobby, the world of toy steam can be a difficult one to break into. With so many types and varieties of models, it's difficult knowing where to start. As suppliers of Mamod steam engines, we get asked a whole range of questions: what the best entry level model is? how do they run? And, besides Mamod, what alternative manufacturers are out there? Well, to answer these questions, we turned straight to the books – quite literally!
The intention of this blog-post is not to answer the above questions, but to point our readers towards the innumerable books available on the toy steam market; in so doing helping you deepen your understanding of the fascinating hobby that is toy steam and its most popular company, Mamod Limited.
There has been a wealth of writing relating to toy steam, although much of it has historically been in the press or on forums. Here, we have listed the Top Five Books for Mamod Enthusiasts. By bringing together a range of toy-steam literature, we have selected and rated the top five books against the following four criteria:
1] Comprehensiveness (/10): how detailed and extensive the book is,
2] Accessibility (/10): how accessible the book is (higher accessibility means better for beginners!),
3] Price (£££££),
4] Rarity (/5): a category for the collectors among you!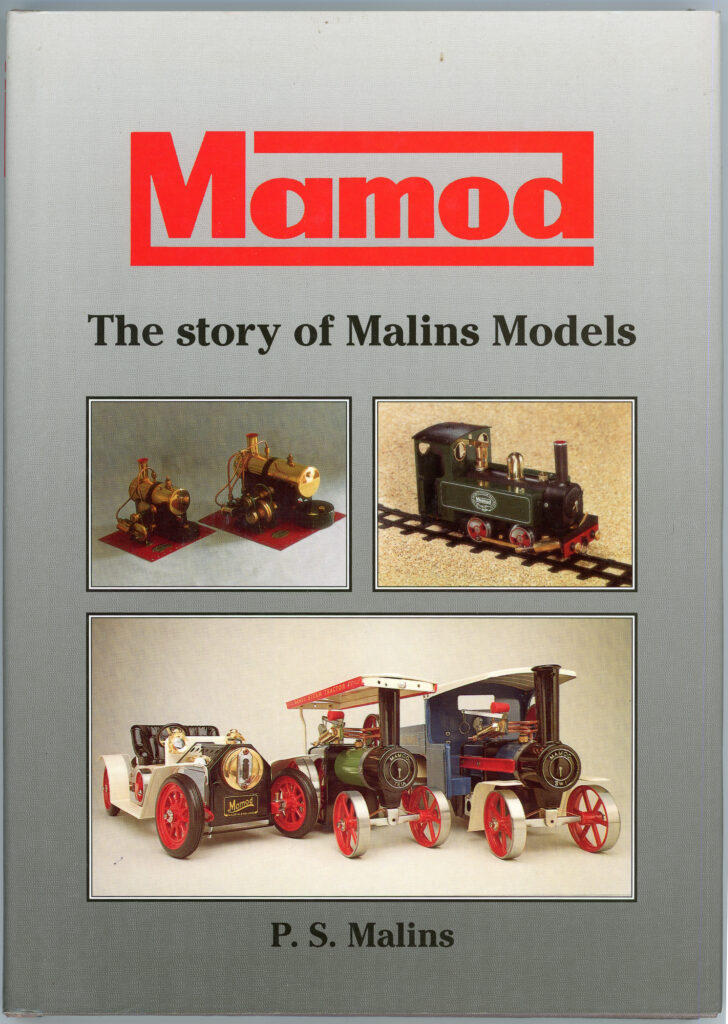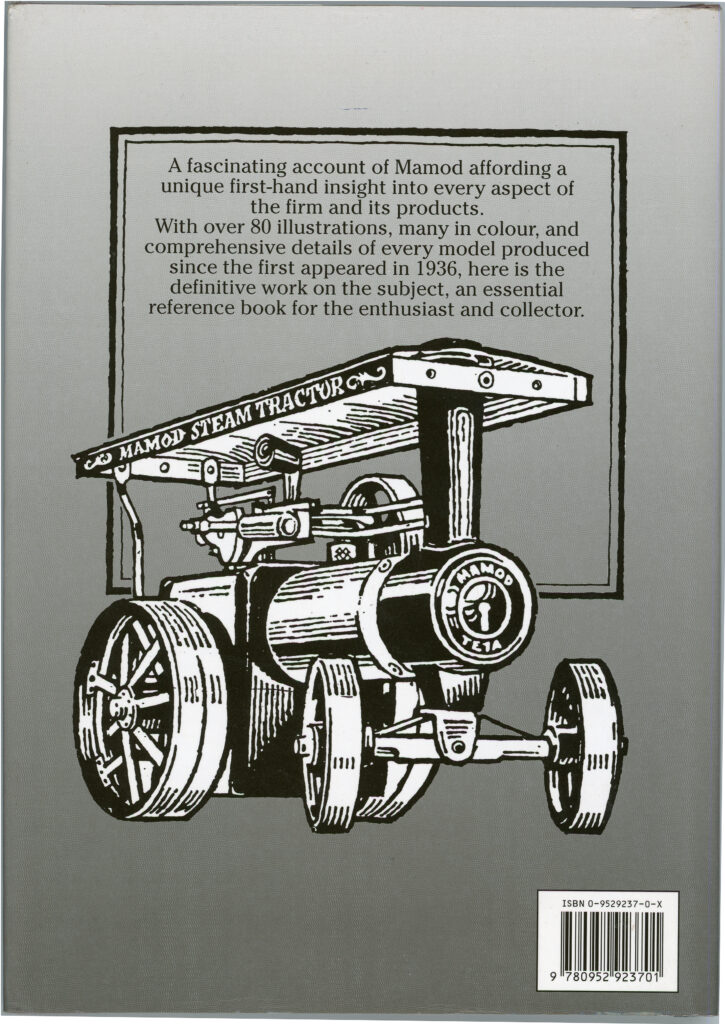 Mamod: The Story of Malin's Models, by P.S. Malin
This book, written by a third-generation Malins family member, offers a fascinating history of the Mamod Steam Company, from their origins in the 1930s to the present day. It includes detailed information on the various models produced by the company, as well as beautiful photographs and illustrations that help bring the history of these engines to life. It is not the most common of books, having been limited to a short print-run – so be prepared to pay up to £90 for a copy, but if you collect Mamod models, this book is an absolute must!
Comprehensiveness: 8/10
Accessibility: 7/10
Price: ££££
Rarity: 4/5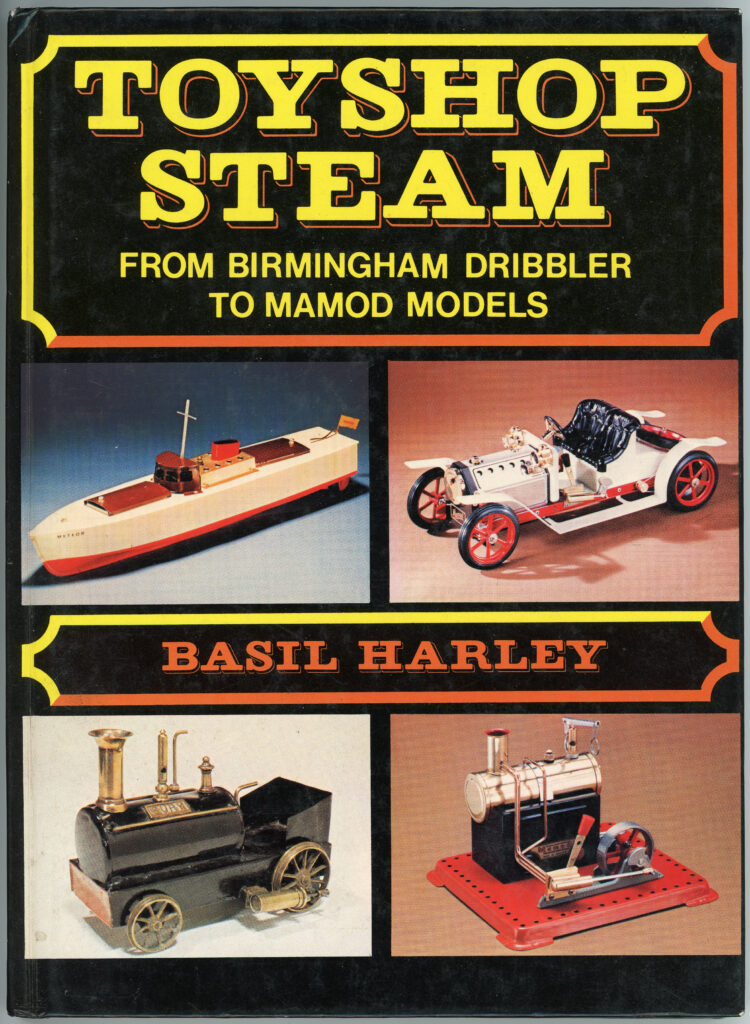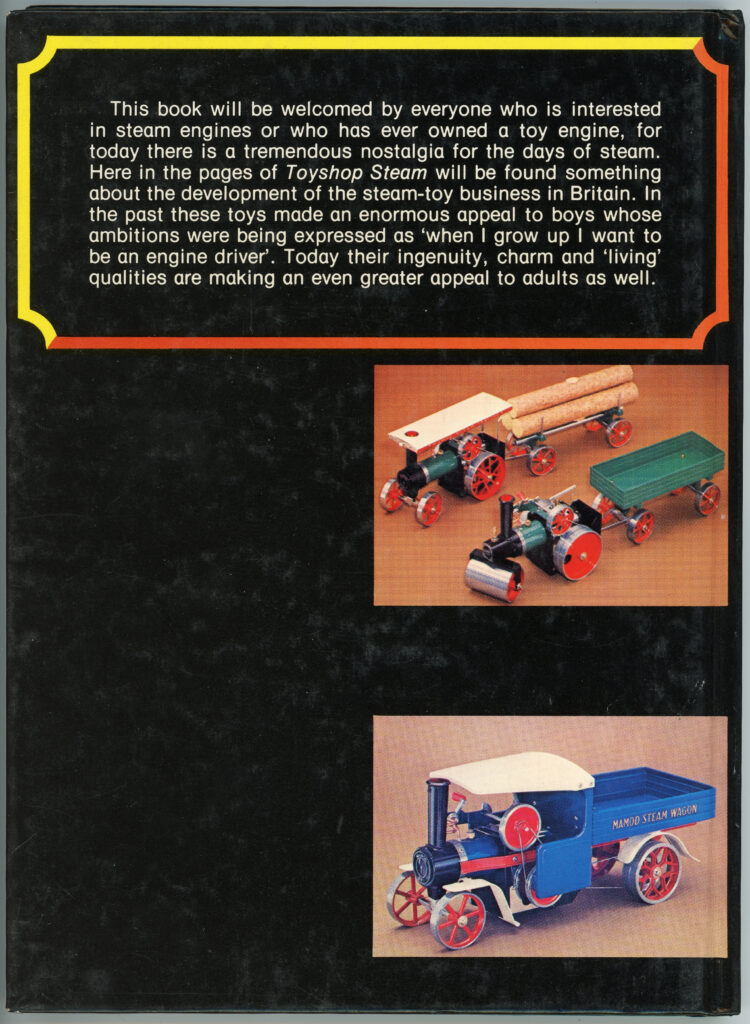 2. Toyshop Steam: From Birmingham Dribbler to Mamod Models, by Basil Harley
A delightful and informative book for enthusiasts of Mamod steam engines and other miniature steam engines. The book offers a comprehensive look at the history and development of these miniature steam engines, along with practical advice for their care and maintenance.
In addition to the history and technical information, the author has also included a wealth of practical advice for Mamod steam engine enthusiasts. The book includes detailed instructions for maintaining and repairing these engines, as well as tips for improving their performance and longevity.
Whether you are a seasoned collector or a newcomer to the hobby, this book is sure to become a treasured addition to your collection. Copies sell for around £20.
Comprehensiveness: 6/10
Accessibility: 7/10
Price: ££
Rarity: 2/5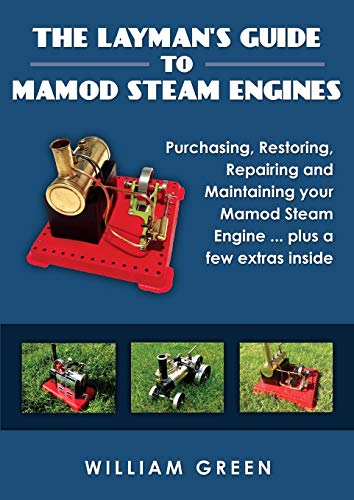 3. The Layman's Guide to Mamod Steam Engines, by William Green
From the creator of RestoringMamods.com, this is a full 109 page book with nearly 250 images, packed with content useful to those looking to collect and restore Mamod steam engines. William's writing style is clear and concise which is a real strength when it comes to making technical information easy to understand. The book covers a range of topics, including the history of Mamod, how steam engines work, and detailed instructions for assembly and maintenance.
One of the strengths of the book is the author's use of clear illustrations and diagrams to illustrate various parts and mechanisms of the steam engine. The book is also well-organized, making it easy to find specific information.
The author's passion for Mamod steam engines shines through in his writing, making the book an enjoyable and informative read.
This book is available new from our shop for only £14.95. View the product listing here.
Comprehensiveness: 6.5/10
Accessibility: 8/10
Price: ££
Rarity: 1/5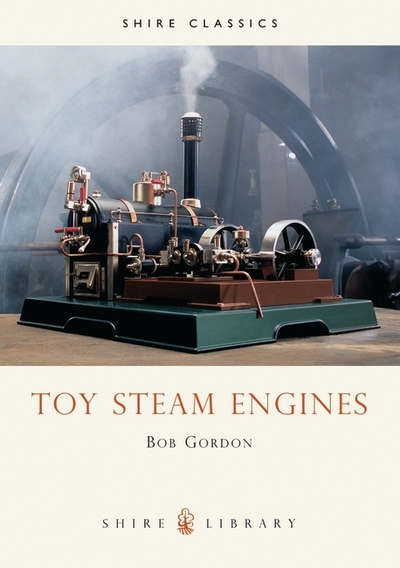 4. Toy Steam Engines (Shire Album), by Bob Gordon
"Toy Steam Engines" by Bob Gordon is a broader guide to the history and collecting of toy steam engines. The author's passion for these miniature steam engines is evident throughout the book, which covers everything from the earliest toy steam engines to modern reproductions.
The book is organized into chapters that cover different eras and types of toy steam engines, including stationary engines, locomotives, and boats. Each chapter provides a detailed overview of the history and development of these engines, as well as information on the various manufacturers and models. A particularly useful component is an index of company logos and brand names found at the back of the book.
Bob Gordon has a wealth of knowledge about toy steam engines, and he shares this information in a way that is accessible and interesting to readers of all levels of experience. This is a small introduction book, with only a small section dedicated to Mamod, but a great way to broaden your knowledge of the various manufacturers of toy steam engines.
Part of the Shire Classics series, so most likely available to order from your local booksellers.
Comprehensiveness: 6/10
Accessibility: 8/10
Price: £
Rarity: 1/5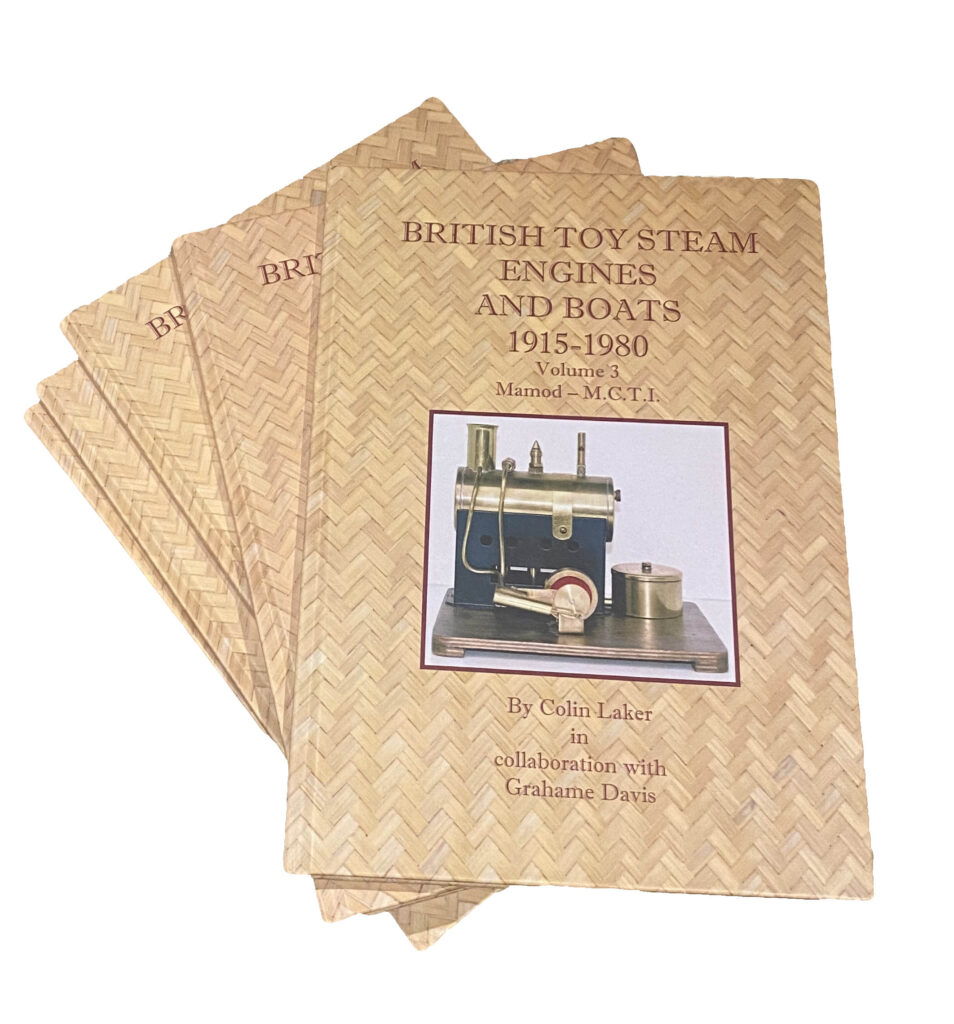 5. British Toy Steam Engines and Boats, 1915 – 1980 (five volumes), by Colin Laker in collaboration with Grahame Davis
A very detailed and well-researched guide to the history and collecting of toy steam engines and boats made in Britain during the 20th century. One of the finest encyclopedic examples yet produced of the history of toy steam, published in five volumes with manufacturers ordered alphabetically across the set (such that Volume 3 covers Mamod – M.G.T.I.). The author has conducted extensive research into the history of British toy steam companies, and provides valuable insights into their operations and the different models they produced throughout the twentieth-century.
After fifteen years of research, it is clear that Colin Laker has ensured this is his finest work yet, spending hundreds (if not thousands!) of hours combing through archives and libraries to source the material for this rich compendium of books. The books are well-referenced, clearly organised and include an excellent array of illustrations to accompany the even more fascinating text.
These volumes were published in 2019 with a very limited print-run. The five-volume set cost £140 new, however prices are likely to have risen since then and they very rarely come up for sale.
Comprehensiveness: 10/10
Accessibility: 6.5/10
Price: ££££ (although given the fact if is a five-volume set, the retail price is perfectly justified!)
Rarity: 4/5