NSU Prinz II (E) Type 40 microcar of 1959 SOLD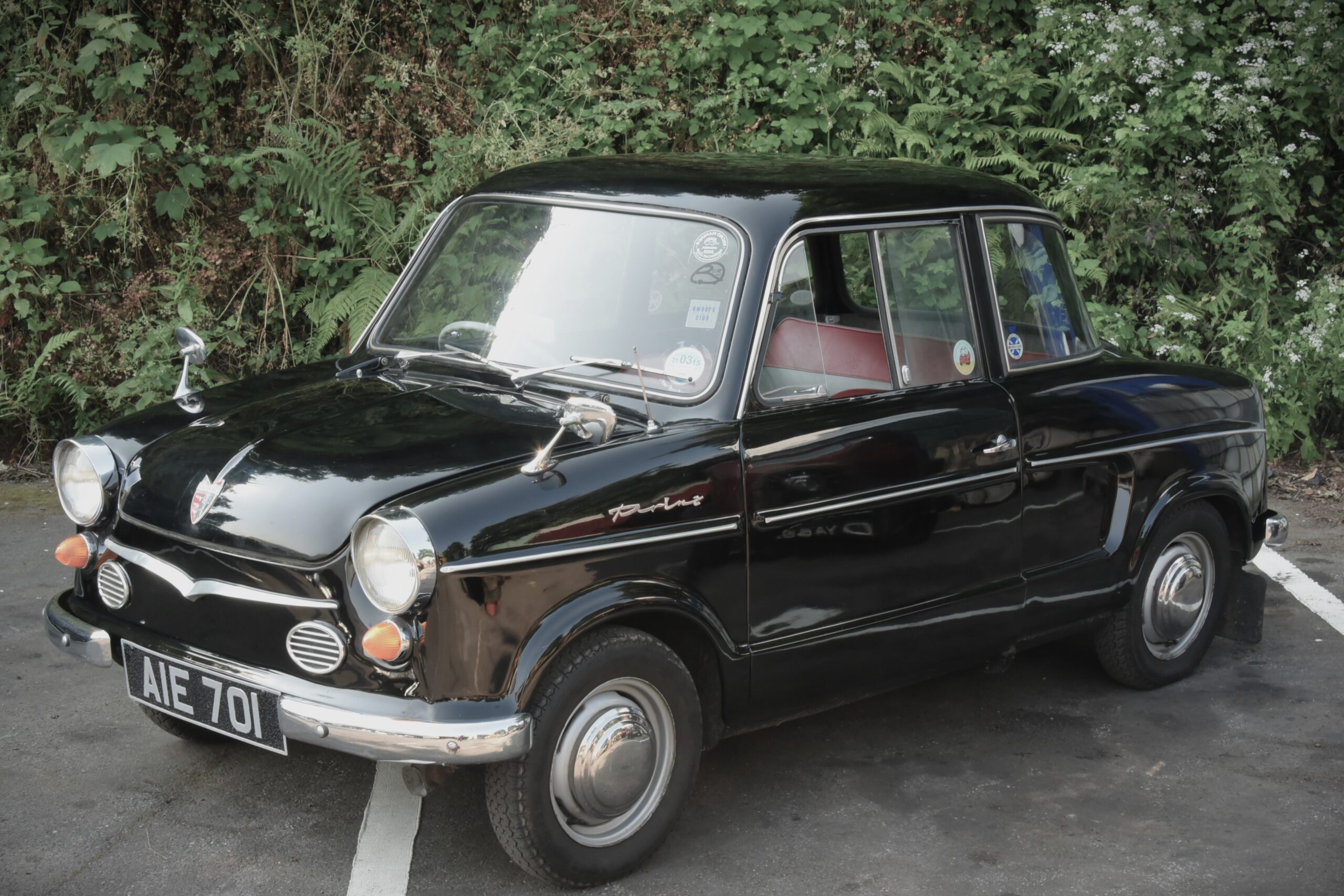 | | |
| --- | --- |
| Manufacturer | NSU |
| Model | Prinz II (E) |
| Country of Origin | Germany, assembled in Ireland |
| Engine | 2-cyl 583cc 4-stroke |
| Gearbox | Manual |
| Mileage Shown | 60,918 |
| Driver Side | RHD |
| Year Manufactured | 1959 |
| Condition | Very Good |
| Asking Price | SOLD |
Offered for sale is this lovingly cared for NSU Prinz II, a rare survivor of a little-known manufacturer of cars outside of collector's circles. NSU was based in West Germany and designed a range of equipment over their near century of trading independently, focussing mainly on being a dominant company in the motorcycle industry.
NSU was founded in 1873 and originally produced knitting machines before moving into bicycle production in 1886 and motorcycle production in 1901. The first NSU car was launched in 1905. Following a turbulent history cementing themselves as a motorcycle and car manufacturer through the wars, NSU rose to be the largest manufacturer of motorcycles in the world by 1955. The company launched the first Prinz (their first car following WW2) in 1957 after time away from car production. The Prinz II was launched a couple of years later in 1959 as a 'luxury' version of the original Prinz I. The Prinz II, what we are currently offering for sale, featured an all-synchromesh 4-speed gearbox and better trim throughout. NSU Motorenwerke were eventually taken over by the Volkswagen group and form part of Audi as we know it today.
The Prinz II offered for sale from our showroom near Exeter is a superb example of NSU's product. Its year of manufacture was 1959 however the quirky part to its build was that the parts were reputedly shipped to Ireland for final assembly, and the final build had to include components supplied from Ireland. A small detail which supports this is the shamrocks etched into all of the original windows of the car! It was registered originally in Ireland on 2/1/1960 before being registered in the UK on 13/1/1965. The current owners have been the careful custodians since the 1980s, having toured the UK attending many events and shows in that time.
Today, the car doesn't want for anything apart from continued care and ongoing maintenance. Having been their pride and joy for such a long time, every detail has been taken care of. It has been kept inside and shows no signs of corrosion underneath. It has not been on the road for a little while but, despite this, starts immediately every time, driving and stopping as well as you would expect a 1950s microcar to do so… Interestingly, having been produced by a company of motorcycle Land Speed Record fame (one of their motorcycles took the first world record of over 200mph on the salt flats in 1956), the Prinz is no slow car and, in their day, were famed for reaching up to 120kph making it a quick car for its time!
The paintwork is nicely done and looks smart. As mentioned previously, the 585cc, 2-cylinder engine runs nicely and delivers drive through the 4-speed gearbox well. It weighs 506kg and, according to the data sheet, this Prinz II is fitted with a 20hp engine which is capable of 105kph – not quite the 120kph of their fastest Prinz but still speedy enough for such a small car. This is a very capable classic which is fun to drive and enjoyable to own.
Overall, a great little car which is a rarity and would be a great way of entering classic car ownership! Otherwise, a superb addition to any collection which is a real talking point, but which is also a very driveable car.
Available for viewings and test drives at our premises near Exeter. Contact us today to arrange an appointment on 01392 833301.
SOLD
We always encourage prospective buyers to view historic vehicles and steam engines in person prior to purchase. This car is advertised for sale by Berrybrook Steam & Classics on behalf of the owner and seller.
For more information, please speak to Matt on 01392 833301 or email [email protected].
As with all of our historic vehicles listed for sale, we recommend viewing in person where possible. Appointments are recommended so please try to contact us before travelling for a viewing.
Please ask about our flexible part-exchange options. Delivery can be arranged to anywhere in the UK, and beyond, at buyer's expense.