NEW PRICE Sunbeam 16hp Tourer of 1920 SO577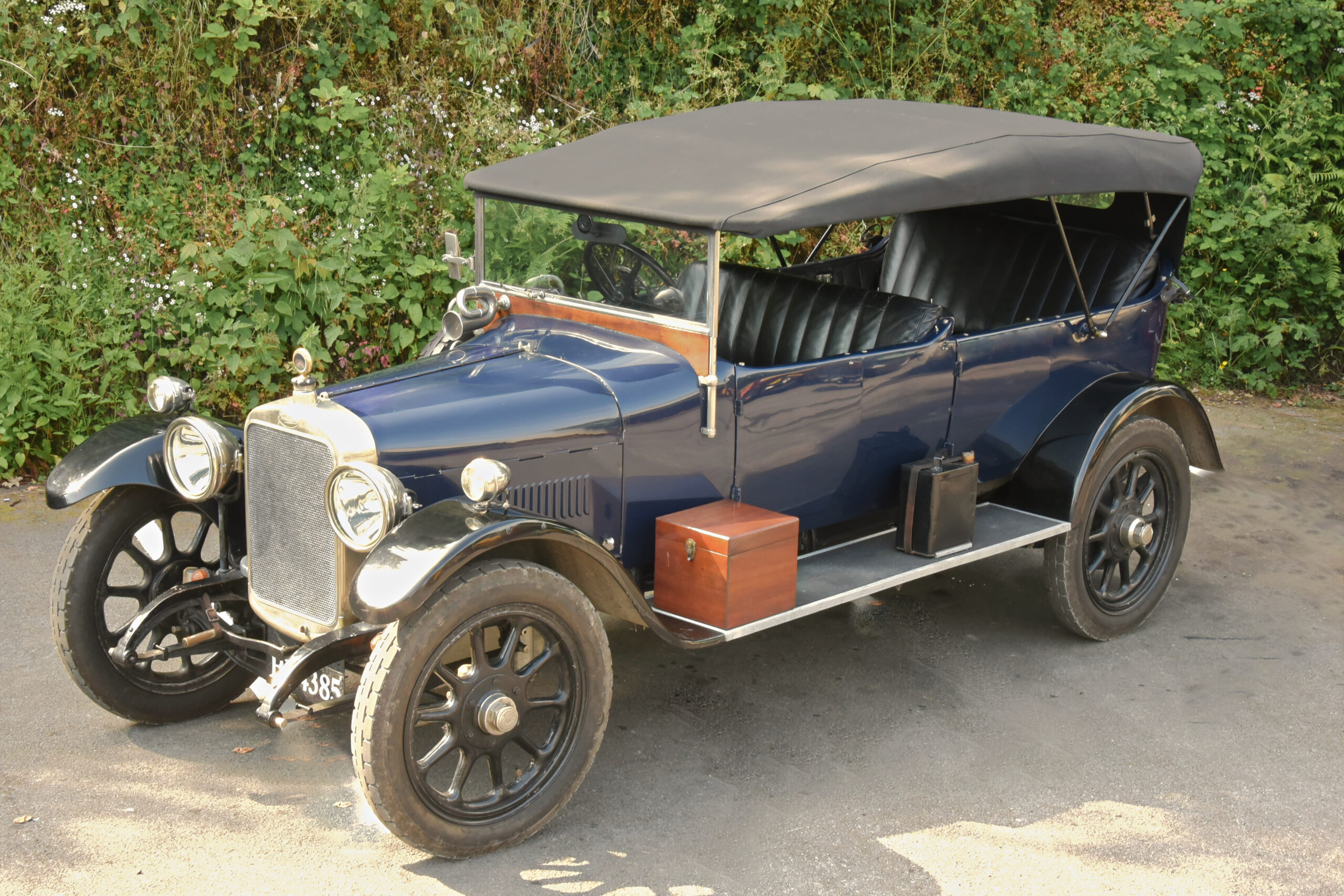 | | |
| --- | --- |
| Manufacturer | Sunbeam |
| Model | 16hp |
| Coachwork | Tourer |
| Engine | 3,016cc 4-cyl |
| Gears | 4 and reverse |
| Driver Side | RHD |
| Year Manufactured | 1920 |
| Condition | Very Good |
| New Asking Price | £39,995 |
It is a pleasure to offer for sale, from our showrooms near Exeter, this superb Sunbeam 16hp Tourer presented in full running order and ready to enjoy.
The sale of this car includes a substantial folder of historical paperwork, dating right back to its early history detailing the original owner being Lady Sara Campbell of Christchurch, New Zealand (some records of her life are available from the National Library of New Zealand and accessible with an internet search!). Following her death in 1927, the car went through a handful of owners before being purchased in a state of disrepair in around 1960 by Jeremy Loughman.
Following the purchase, Mr Loughman started the restoration by having a new body crafted entirely from aluminium before the car changed hands in 1982, partway through that restoration. The new owner completed the restoration to a high standard before using this Sunbeam for long-distance rallies on the South Island (New Zealand).
The records are hazy but suggest the left New Zealand for the UK in around 2006 where it joined a small collection and continued to be used around Ireland, Wales and North England. During this ownership, it was fitted with a hood, sidescreens and an Auster screen. In more recent years, it has been enjoyed as part of a collection by the current owner who has continued to use it regularly following purchasing it in a non-running condition. Under the current ownership, a huge amount of professional work has been carried out by McKenzie Guppy Ltd (Rolls Royce and Bentley specialists in Dorset) with folders of paperwork to support that work. Nothing has been left to chance and the result is a reliable 1920 Sunbeam which is fun to drive, and which never fails to put a smile on anyone's face!
It is the 3,016cc (3 litre), 4-cylinder model with four forward gears and reverse; it, of course, predates synchromesh. It starts reliably with the starter motor needing only a little choke on occasion. The only major diversion from originality would be the clutch which has been sympathetically replaced by a later BMW replacement to make driving easier in modern traffic. The original, cone-style clutch is included in the sale, should the buyer wish to return it to authenticity however this modification is not evident from the outside and we are told significantly improves the driveability of the car.
The paintwork around the car could be described as good. It is not perfect, but the imperfections are characterful and certainly don't detract from the car. Aside from the mild imperfections, the paintwork has a good shine and appears to be durable. The wheels are light artillery wheels, believed to be leftover stock from WW1 so are very heavy and durable. The dashboard and electrics all work as expected, including the addition of indicators.
Overall, a superb example of the Sunbeam 16hp which has not been left to chance and is a very presentable show car. With the combination of a high-quality finish, alongside the attention given to reliable running, this one could be enjoyed on the roads as much as being admired in a collection!
New Asking Price – £39,995
We always encourage prospective buyers to view historic vehicles and steam engines in person prior to purchase. This car is advertised for sale by Berrybrook Steam & Classics on behalf of the owner and seller.
For more information, please speak to Matt on 01392 833301 or email [email protected].
As with all of our historic vehicles listed for sale, we recommend viewing in person where possible. Appointments are recommended so please try to contact us before travelling for a viewing.
Please ask about our flexible part-exchange options. Delivery can be arranged to anywhere in the UK, and beyond, at buyer's expense.