Full-Size Steam, Implements & Machinery
Print
NEW PRICE Pantechnicon Wagon of c. 1900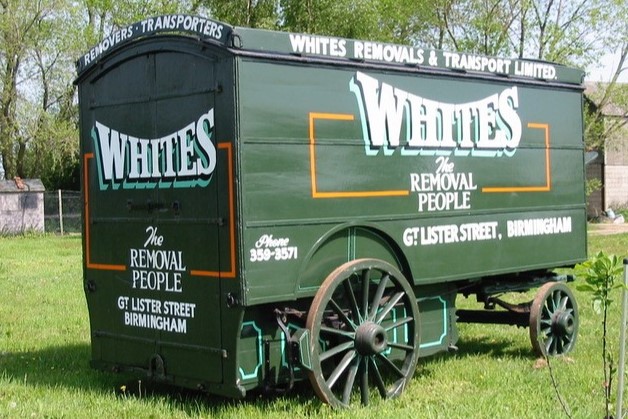 | | |
| --- | --- |
| Model Type | Pantechnicon |
| Age | c. 1900 (early history unknown) |
| Condition | Great Condition |
| New Asking Price | £10,000 |
Offered for sale on behalf of the owner is this charming horse-drawn Pantechnicon, likely built for furniture removals around the turn of the 20th Century. It is largely original with some restoration work having been carried out whilst in preservation to keep it in good order.
No history has survived with this example earlier than 2006, when it was purchased by the current owner from a seller in Staffordshire. It looks to have been dry stored for a large part of its later life, certainly having remained inside in since 2006. It is currently painted with Whites of Birmingham however we are uncertain for the reasoning behind this choice of livery and whether they were once the owners or whether it was simply an aesthetic choice by a previous owner. Pantechnicons were hauled, in the heyday, by horses and later records exist saying many we converted for use behind traction engines and steam tractors for light haulage of furniture and similar goods. They are not regularly seen on the open market in such complete condition and this one offers a glimpse into haulage from that era.
The owner reports that it is very good condition with no not or woodworm and that it is solid throughout. The interior (not photographed) looks to be original and the owner is including some tea chests which they have collected over the years to help the buyer build up an authentic display. The only points to note are that the back padlock hoop for the door has been cut away and that the front door has a strip missing which can be seen in the photos. It includes the horse shafts and a contemporary A-frame made to pull it behind a suitable vehicle.
The owner is selling due to a shortage of space and is keen that it goes to a good home where it will be kept inside to preserve it for a good many years to come.
Overall, it is a remarkable piece of history which offers the buyer an unusual opportunity to help preserve a relatively delicate artifact from bygone years.
Asking Price – £12,000
New Asking Price – £10,000
We always encourage prospective buyers to view vehicles and steam engines in person prior to purchase. This engine is advertised for sale by Berrybrook Steam & Classics on behalf of the owner and seller.
For more information, please speak to Matt on 01392 833301 or email [email protected]. As with all our vehicles listed for sale, we strongly recommend viewing in person. Appointments are essential so ensure you book before travelling to us for a viewing. This Pantechnicon is located in the North East of England.
Please ask about our flexible part-exchange options. Delivery can be arranged to anywhere in the UK, and beyond, at buyer's expense.