Full-Size Steam, Implements & Machinery
Print
Romany Gypsy Caravan of 1894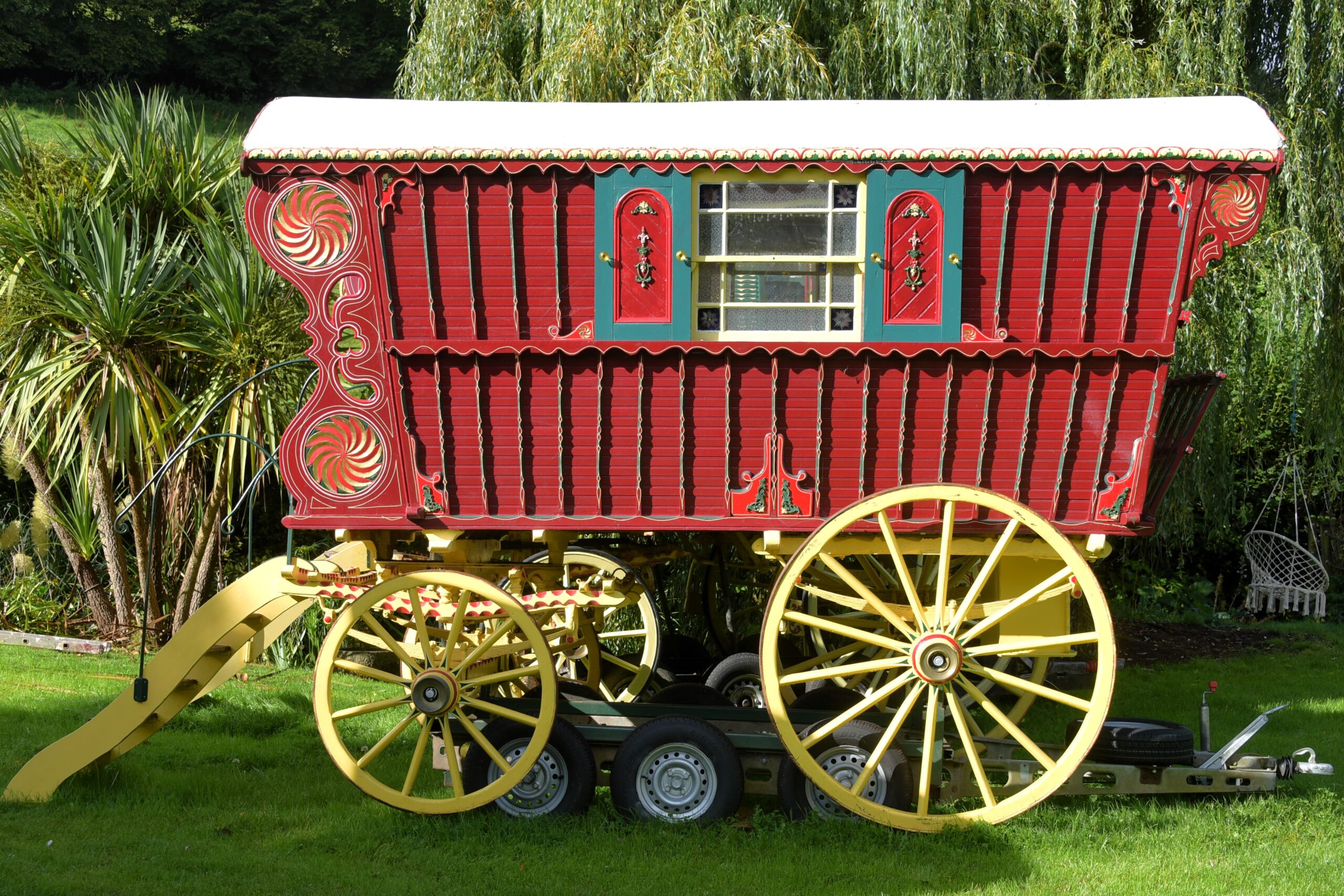 | | |
| --- | --- |
| Model Type | Reading Wagon |
| Age | 1894 |
| Builder | Leonard of Soham, Cambridgeshire |
| Length (Approx.) | 4 metres |
| Width (Approx.) | 2 metres |
| Height (Approx.) | 3.5 metres |
| Condition | Great Condition |
| Asking Price | £22,995 |
Currently offered for sale on behalf of the owner is this stunning example of a Reading Wagon, as built originally by Leonard of Soham, Cambridgeshire and dated as being from 1894.
This wagon was restored over the course of three years to a high standard throughout. It is timber construction and finished with a maroon livery with contrasting dark teal to the chamfered edges, stable door and shutters. In addition to the stable door, it has three windows, two on the side and one on the rear with shutters. The undercarriage and whirls on the porch sides are beautifully finished in a complementing red and cream. The interior mirrors the outer with maroon, dark red and cream livery throughout.
It retains many original feature with a 6ft 4 in double bed at the back with side panels and curtains, a sash window with spindle shelf above a leaded glass panel, decorative headboard and a light. Below the bed, behind a pair of sliding doors, is a storage area the same size as the bed.
The main living area has seating for four on storage units with two double seats. It has two sash windows with original blue star corner glass.
Decoration and fittings include applied carvings of grapes on the bed surround and etched and stained panes in the windows. The gypsy mirror above the range is etched and painted and is above a new range and kindling box which has an original Colchester stove front. There are two interior lamps wired to a 12v battery.
The sale includes a set of steps with a wrought iron rail and a purpose built 6-wheel road trailer designed to fit between the wagon's wheels and lift it from the ground for transport.
Overall, a superb gypsy caravan which is in good condition and a credit to the owner. It has been displayed at many steam gatherings, including the Great Dorset Steam Fair.
Asking Price – £22,995
We always encourage prospective buyers to view vehicles and steam engines in person prior to purchase. This engine is advertised for sale by Berrybrook Steam & Classics on behalf of the owner and seller.
For more information, please speak to Matt on 01392 833301 or email [email protected].
As with all our vehicles listed for sale, we strongly recommend viewing in person. Appointments are essential so ensure you book before travelling to us for a viewing. This Reading Wagon is located close to our premises near Exeter, Devon.
Please ask about our flexible part-exchange options. Delivery can be arranged to anywhere in the UK, and beyond, at buyer's expense.